Join the Promising Ideas Incubator: Apply by February 7th!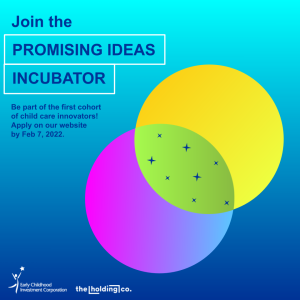 Have an idea for how to rebuild and reimagine Michigan's child care sector? 
Apply to join ECIC's Child Care Innovation Fund as we pilot a Promising Ideas Incubator for the child care sector. The incubator experience is for new and existing child care entrepreneurs who are ready to immerse themselves in the experiences of working families and early educators and catalyze their promising ideas into innovative, actionable and equitable solutions for a community or region.  
The Opportunity: 
The Promising Ideas Incubator seeks to support the design of innovative, actionable, and equitable solutions to rebuild and reimagine child care in Michigan.  Gather your team and apply for one of three high-leverage innovation opportunities based on Michigan's current child care landscape as well as the expressed needs and interests of the early care and education field.  If selected, your team will participate in two virtual workshops in one of these three opportunities:
Immersion Workshop
Understand the current needs of both families and early educators in child care.


Ideation Workshop
Accelerate your ideas into innovative, actionable and equitable solutions for a community or region.


#1 Catalyze Innovation Between Sectors:
Create synergy between the economic development and child care sector

#2 Catalyze Innovation for Preschool:
Tackle barriers to child care centers and group child care homes successfully operating GSRP, with the same level of high-quality implementation as a school-based program

#3 Catalyze Innovation for Early Educators:

Improve wages, benefits, and on-the-job supports
What else can Teams expect: 
Participation in the Incubator will be remote, so you will need a computer, with internet access and a video camera. We recommend using headphones and request your video be turned on. 

 

A small design research stipend to support your Team to put into practice what you learn in the incubator

 

Access to ongoing consultation with ECIC's Child Care Innovation Fund staff 

 
The Application Process: 
Interested Teams are asked to complete this brief application. Teams will be notified no later than February 8th regarding the status of their application.  Teams not selected for this pilot can choose to be placed on a waiting list for the next Promising Ideas Incubator. 
Please Note: All incubator participants are encouraged to apply for the next round of ECIC's Child Care Innovation Fund grants which will open in March 2022. Participation in this Incubator does not guarantee funding.   
Apply Now
Questions? Check-out the Frequently Asked Questions Document: 
For any additional questions, please contact Joan Blough at ECIC.