Recognized nationally for our work in family and parent leadership, ECIC has played a lead role in Michigan's authentic engagement of families and parents over the years in early intervention, home visitation and early childhood systems building.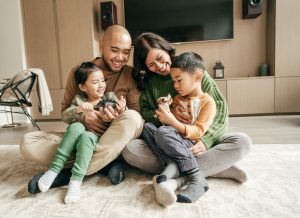 Through the Great Start Initiative, which ECIC helped launch in 2006, ECIC grew statewide parent volunteer network membership from 900 to over 10,000 at its height.
Michigan's Great Start Collaborative and Parent Coalition structure is unique – Michigan is the only state that embeds family and parent leadership to inform early childhood system building at the local level.
ECIC currently implements family and parent leadership for Michigan's 11 Maternal and Infant Early Childhood Home Visiting communities, as well as, training and technical assistance to the community level Local Leadership Groups.
Publication: Stepping Up and Speaking Out
The Early Childhood Investment Corporation and the Michigan Home Visiting Initiative are excited to announce the release of the publication, Stepping Up and Speaking Out: The Evolution of Parent Leadership in Michigan.
Parent voice and leadership is key for systems, policies and programs to be equitable and effective for all families.  Download the publication to learn how to build family and parent voice, and please share with your powerful networks. Together we can make family and parent leadership a priority in the early childhood field. This publication is available in English, Spanish and Arabic: