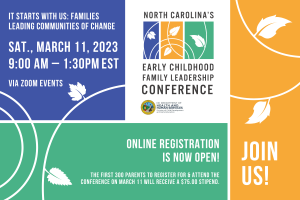 The North Carolina Division of Child Development and Early Education (DCDEE) invites all North Carolina parents and families to attend the second North Carolina Early Childhood Family Leadership Conference taking place on Saturday, March 11, 2023, from 9:00AM – 1:30PM EST via Zoom Events.
Join us once again in important conversations on how parent/family leaders can work together to co-lead and bring change to an early childhood system in North Carolina that puts families first.
This conference will feature presentations led by advocates, change-makers, parent leaders, partners, and early-childhood advocates. Attendees will also have an opportunity to participate in family-friendly sessions and cafes to build community with other parents and families.
Click below to register today! The first 300 parents to register for and attend the conference on March 11 will receive a $75 stipend.