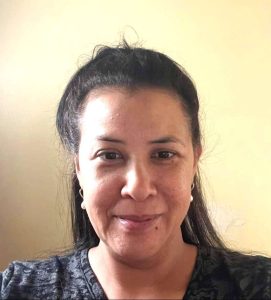 Taylor, MI – Before settling down to raise children, the intrepid Salina Mann had a storied life as a single woman, who had left home at a young age and used traveling to far-off countries to help her feel "centered." Gifted with a good-natured sense of humor, Mann joked that her singlehood was an anomaly at one of her workplaces, the Detroit Parent Network where she served as the executive assistant. "Ironically, I was the only nonparent working there when I arrived," she said laughing. Born to teen parents who divorced, Mann's upbringing had been fraught and complicated, leaving her fearful of starting her own family. But with the pull toward having children becoming irresistible, she set worries aside. She took the plunge into parenthood when she reconnected with an old flame living out-of-state and learned that he likewise wanted to start a family. In 2016, she moved back to Taylor in downtown Detroit where she grew up, and with Anthony by her side, they became the smitten parents of two children – first a son and then daughter – just 18 months apart. Together, they discovered the joys and challenges of raising young children. "My kids are gorgeous. They are the gifts that keep on giving."
Each child had medical concerns and diagnoses that worried the dedicated parents, though. Both children developed delayed speech issues early on that required professional intervention. In their son's case, Mann worried he would fall behind if he did not receive aggressive therapy. However, the pandemic was in full swing, and it complicated the search for child care centers and services. Her research paid off when she located a center connected to Beaumont Hospital in suburban Detroit. Mann also sought help for a not uncommon behavioral issue; the child had one speed – fast. His quick movements left her concerned about his safety, particularly since he wore a medical helmet for a time. Meanwhile, their daughter was born with a serious bladder and kidney condition that required a team of specialists and surgery to correct. Like her brother, she received professional intervention for her speech delay. "The children's diagnoses were tough. It was difficult to emotionally manage at times, and I didn't know day-to-day how it was going to go," Mann said. "I needed to be around a lot of moms and professionals who had seen something like this before."
Through her research and help from former friends and coworkers, she learned about home visiting services through Early On and Early Head Start that put her in touch with invaluable information, skills, and services. "We were given a very experienced team of specialists at DMC Children's Hospital in Detroit and along with the wonderful professionals and veteran moms from Early On, we gained skills and strength and most importantly support for our family," she said.
The connections helped her to realize how important it is to advocate for one's children and their healthy development. "I learned that I can't be afraid to ask for help," she added.
After becoming a mother, Mann began thinking about "where I fit in" in the world. In recent years, she has taken her friends' advice and become involved in advocacy groups as a parent activist. A friend suggested she enroll in the Parents Partnering for Change course that set her on a new journey. Another friend recommended that she consider joining the Think Babies Michigan movement. She did, and moved up quickly, becoming a Michigan parent representative to national conversations on parent engagement and policy work assembled by the Pritzker Foundation. She found the work and insights shared by parents across the country invigorating.
A member of the Wayne County Interagency Coordinating Council, Mann was also invited to serve on the Michigan Interagency Coordinating Council. Appointed by the Governor, the members advise and assist the Michigan Department of Education in the evaluation and continuous improvement of the Early On system.
She now urges other parents to reach out and ask for help when they're struggling and unsure how to address their children's health and behavioral concerns. "Let's face it, people are worried about asking for help. They don't want to be judged. Others can help you feel optimistic about life and confident in the knowledge that one's challenges can be worked out."
Mann says it's imperative today for parents of young children to become involved and knowledgeable about the politics and policies that impact early childhood issues because of the short window to make a difference in a child's early years. "Problems identified early in life need to be stabilized," she said. "One can't sit on the sidelines when the well-being of young children is involved."
More than 950 Michigan families, advocates, researchers, government officials, service providers and parents convened to create the Think Babies Michigan 2020-2025 Policy Agenda. Michigan is the only state in this national movement to intentionally prioritize having parents co-lead and co-design our policy agenda-setting process. Click below to learn more and join the initiative.