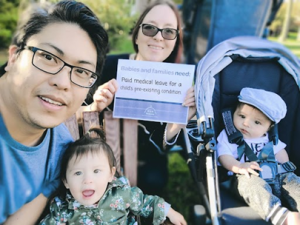 Bloomfield, MI – One recent summer afternoon, Christian Ko was mulling over the power of random circumstances in changing the course of one's life and recalled several strong role models from his own large, extended family going back to the Philippines. His father immigrated from the Philippines to support his parents and siblings after a fire destroyed their home and business. His pharmacist aunt built the vibrant Philippine American Community Center of Michigan in Oakland County after she and other professionals were recruited to immigrate from the Philippines in order to fill an acute shortage in medical positions in Michigan.
Christian tells these stories while explaining how he – a dad of two who works remotely in the medical insurance field – became co-chair of the growing, statewide, Think Babies Michigan initiative to enact public policy changes that improve the lives of infants and toddlers. It turns out, his life-changing circumstance involved a milk run.
His partner Michelle DeWald, a former preschool teacher, was working as a parent liaison and care coordinator with Help Me Grow/Great Start Collaborative in Oakland County and attending training sessions sponsored by the Early Childhood Investment Corporation (ECIC) when daughter Brielle was born in January 2019. With mom traveling across the state – and Brielle needing access to mom's breast milk – Christian and Brielle became part of Michelle's entourage. Christian and Brielle would sit in on Michelle's meetings, often observing from the seats at the back of the room. "I don't get stressed or anxious very much," Christian said. But running out of breast milk? He worried: "She's going to wake up any time. She's going to cry. That was the most stressful time in my life. Me and Brie couldn't be without her. We traveled with her to all the trainings."
In 2019 the family attended the Help Me Grow National Convention in Buffalo, N.Y. and Christian met three other active and involved Michigan dads. By random circumstance, they were friends of one of his many cousins and the men formed a connection; one of them was an activist with Michigan's Prenatal-to-Three Policy Initiative (PN3).
Christian became such a familiar and reliable fixture at ECIC's training sessions and as a parent leader with the Great Start Collaborative's Parent Coalition at home, that when the PN3 initiative – a forerunner to Think Babies Michigan – was formed, he was invited to join. His family was selected to represent Michigan in the Strolling Thunder advocacy event in 2020 hosted by the national organization, Zero to Three, in Washington D.C. The annual event features families and kiddoes in baby carriages who visit Congressional offices. Even though travel plans had to be scuttled as the newly emerged COVID pandemic took off, Christian kept speaking up in favor of family-friendly public policies and services needed to help young children grow healthy and strong. That year, the Zero to Three organization focused its activism around paid family and medical leave. Then, like now, the issue resonates with Christian and Michelle's family, which grew to four with the birth of their son, Lino.
When Brielle was born in January 2019 with a medical complication, Christian's employer provided for six weeks of paid family leave, a benefit that wasn't available to Michelle, neither in her role as a preschool teacher nor in her additional role as a contracted trainer. "Michelle was literally the one who had the baby and had to choose between going back to work or staying home without pay. She took the same time off as me – all unpaid." When Lino came along in May 2020, 15 months after Brielle and during the pandemic lockdown, Michelle made a different choice and didn't return to work.
It's an issue – along with the low pay that early childhood educators receive – that Christian says is unfair.  "It's crazy. We have two toddlers now, 3 and 4 years old, and she had to stop working because her salary wouldn't have been enough to pay for two kids into child care. It's more cost effective to have her stay at home than her going to work in the classroom as a Great Start Readiness teacher." Not surprisingly, he's a big champion for enacting a paid family and medical leave plan for Michigan, now being advanced by the office of Governor Gretchen Whitmer.
Like many young families trying to live on one income today, Christian says it's definitely a struggle, compared to his own parents' generation when a dollar stretched further. "It seems like the struggle is totally different today. We do have financial goals we are unable to attain because we have one income. So, we're making different choices because of that. And that's just how it is." He is moved when he listens to other parent leaders from diverse communities across the state share their stories of challenges and triumphs. "Sometimes I think, wow, the things they're going through are a little more dire, and I can see they're struggling."
Those realizations help fuel his resolve to keep speaking out, advocating for Michigan families, and contributing to the work of Think Babies Michigan policy initiative. A consumer perspective is vital to shaping programs that align with the needs of the families using them, he said. Sorting out how various school districts analyze income eligibility for GSRP enrollment made him realize how valuable it is to offer parent input. He's particularly proud to have been part of the committee work that examined applications from community organizations and parent groups, leading to the distribution of sixteen $5,000 to $10,000 mini-grants across the state. "I really think it's important to have a parent's voice in these discussions," he added. "There are a lot of different pieces to these things that new parents just don't understand. They don't know what's available to them, or how to navigate the different resources we do have available."
"Every time I've been able to share my story specifically, or those of the other parents I've met in my circles, I've felt a responsibility to bring those voices to the table," Christian said. "I've appreciated the opportunity to be able to do that."