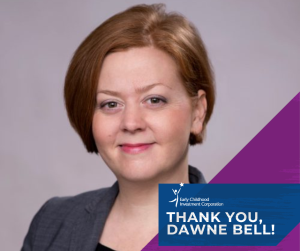 Dawne Bell, CEO of the Early Childhood Investment Corporation (ECIC), announced that she is stepping down from her role in January to pursue a new position as Vice President of Youth Development at the YMCA of Greater Grand Rapids. Dawne has led ECIC, a statewide organization dedicated to creating a future where all young children and their families in Michigan thrive, since 2018.
"We are so grateful to Dawne for leading us through a period of immense growth and change," said ECIC Executive Committee Chair Jana Dean. "Under Dawne's tenure, ECIC expanded its core programs; launched Michigan's Child Care Innovation Fund; created the National Center for Family and Parent Leadership at ECIC; and prioritized our advocacy efforts to effect positive change in Michigan. Though we will miss her terribly, the achievements under her leadership live on in our work here at ECIC." 
A few of the significant accomplishments during Dawne's tenure as CEO include: awarding over $30 million to more than 100 grantee partners in communities serving all 83 counties and tribal communities across the state, strategically convening and growing a diverse statewide advocacy coalition of nearly 3,000 members that has achieved several dozen public policy victories, collaborating with partners to launch and grow new initiatives impacting hundreds of thousands of young children and their families, and substantially increasing ECIC's income by more aggressively pursuing outside funding. When Bell was hired, ECIC had 33 employees. Today, 55 employees work at ECIC. Prior to coming to ECIC, Bell served as a foundation executive in Southern Arizona and previously led the fundraising and advocacy departments at nonprofit organizations in New York City, New Mexico, and Michigan. 
"Leading this organization has been an honor of a lifetime," said Bell. "I want to thank the Board (called the Executive Committee) for their unwavering support and engagement. Every member of our staff is talented and passionate and has inspired me for years. With hundreds of collaborative partners across the state, we have worked together to re-imagine and help shape a stronger, truly equitable early childhood system. Although it is hard to leave such an amazing organization, as I move on to continue my work in West Michigan, I am thankful for the opportunity to have served alongside these extraordinary colleagues." 
Bell will continue as CEO until January 19, 2024, at which point the ECIC Executive Committee will appoint an interim CEO. The Board will also be forming a Search Committee that will be tasked with selecting the next CEO, whose appointment will be approved after a full vote by the Executive Committee. 
Created in 2005 to serve as a statewide leader in early childhood, ECIC collaborates to increase public and private investment in the earliest years, elevate issues affecting young children and their families, and continuously improve Michigan's comprehensive early childhood system. Our vision is to create a future where all young children in Michigan and their families thrive.