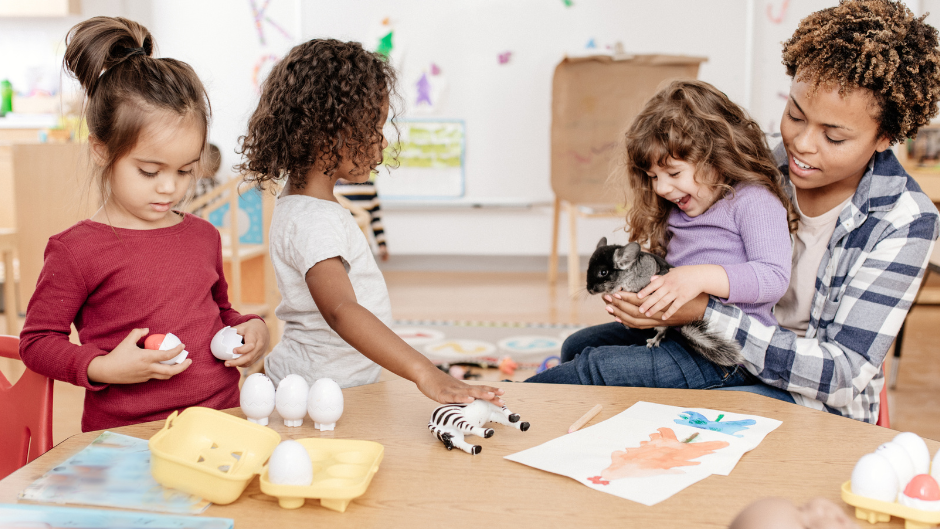 The Early Childhood Investment Corporation (ECIC) received $12.5 million in federal American Rescue Plan Act funding, awarded by the Michigan Department of Education (MDE) as part of the Caring for MI Future initiative. Caring for MI Future is a $100 million investment that will help more Michigan families find quality, affordable child care in their community by opening 1,000 new, or expanded, child care programs by the end of 2024.  
Starting in the fall of 2022, ECIC's Child Care Innovation Fund will issue calls for applications from communities seeking funding in one of the three following innovation opportunities:  
Regional planning

opportunities that bring economic development and early childhood leaders together to accelerate community-level efforts to address Michigan's child care crisis 

 

Start-up and scale-up funding to support communities to launch, replicate, or sustain  early care and education 

apprenticeship

models to address child care workforce challenges 

 

Supply-building opportunities specifically for entrepreneurs that operate home-based child care programs to incubate and launch

family child care networks .                     
Timelines for application openings can be found below. We encourage you to sign up for our emails to receive notifications of when each application opens. 
 Family Child Care Networks 
In recognition of the critical need to both stabilize and expand access to high quality family child care, ECIC's Child Care Innovation Fund is offering specific resources – through this Caring for MI Future grant opportunity – to establish staffed family child care networks in all four ECSN regions. A family child care network is an interconnected group of providers and families that comes together to enhance supports for home-based child care, including quality, access to services, and sustainability.
This funding opportunity is for applicants who want to partner with ECIC's Child Care Innovation Fund to:
Connect and support home-based child care programs in the delivery of essential services to improve program quality and strengthen home-based child care.
Build the capacity of one or more family child care networks to support home-based child care providers through technical assistance, educational and engagement opportunities with decision-makers and policymakers, and connections to additional local and state resources.
Improve the policy, economic, and regulatory environments for home-based child care in MI.
The Family Child Care Network (FCCN) application for this funding opportunity will open April 7, 2023.
Interpretation Services and Office Hours
Interpretation services are available to those who need assistance understanding the requirements of the Request for Proposals (RFP) and the application. To access interpretation services, please email: technicalassistance@ecic4kids.org. In your email, please provide a name, your preferred language, and phone number where you can be reached. We will contact you within 48 business hours.
Starting April 10, virtual office hours will be available to interested potential applicants. We highly encourage all potential applicants to take advantage of office hours. Office hours will help us get to know you and will help you determine if your organization is a potential fit for this funding opportunity. You can use office hours to ask specific questions or to get consultation on your application.
To request office hours, please email: technicalassistance@ecic4kids.org. If you need interpretation services for your office hours appointment, please include the preferred language and phone number where you can be reached in your email so we can make arrangements.  Office hours will be available through May 5 at 5:00 PM EST.
Webinars for Potential Applicants
Family Child Care Network Benchmarks & Indicators by Home Grown: Wednesday, April 5 at 1:00 PM EST.
Click here to register!
Interested in learning about the best practices in developing a Family Child Care Network? Would you like to hear about specific steps you can take to move your work towards these best practices? Home Grown, a leader in the Family Child Care Network (FCCN) movement, will provide information on the 11 benchmarks their research has found to be the most impactful when developing meaningful and effective FCCNs.
Introduction to the Family Child Care Network RFP by ECIC: Monday, April 10 at 1:00 PM EST.
Click here to register!
Thinking you'd like to apply for Family Child Care Network grant? Please join the Child Care Innovation staff in a webinar aimed at introducing you to the application, providing technical assistance on the application, and creating space for questions and answers in real-time.
Unable to attend? The webinars will be recorded and posted on our website along with any related materials that are shared.
Additional Resources
A Framework for Expanding Family Child Care Networks in Michigan: MDE partnered with School Readiness Consulting (SRC) to prepare Michigan family child care networks: Final report about lessons learned nationally and in Michigan about innovative strategies and successful implementation of FCCNs; identify opportunities for FCCNs to incorporate equity informed policies and practices; inform this grant opportunity and potential applicants.
Strengthening Home-based Child Care Networks; An Evidence-based Framework for High-Quality: Home Grown and the Erikson Institute in Chicago worked with family child care network members and staff, researchers and leaders in early care and education to create 11 quality benchmarks for home-based child care networks. The benchmarks and related indicators paint a picture of what a high-quality network strategy can look like for its participants. The benchmarks are designed to help all Networks achieve positive outcomes for participants, and the children and families the provider participants serve.
National Organizations Supporting the Advancement of Family Child Care Networks
All Our Kin has developed an innovative model for training, supporting, and sustaining family child care educators in cohorts or networks; creating opportunities for providers and increasing high-quality care options for families. Within one year of completing All Our Kin's licensing or business program cohorts, the majority of providers saw an increase in earnings by $5,000 or more, and 81% of providers say their quality of life improved.
Home Grown is a national collaborative of philanthropic leaders committed to improving the quality of and access to Home Based child care. Home Grown is implementing the Building Comprehensive Networks (BCN) initiative with states and communities across the country. ECIC's Child Care Innovation Fund is a Learning Partner in the BCN initiative. ECIC has formed a strategic partnership with Home Grown for the purposes of developing and implementing this grant opportunity.
Early Care and Education Registered Apprenticeships 
As a follow-up on the update that was shared in mid-February, we are sharing more background behind the decision to delay a request for proposals to create/pilot more apprenticeship sponsoring agencies.
Through ECIC, the state is continuing to learn new information about how apprenticeships registered by the US Department of Labor (USDOL) are implemented and about what types of funding might be available to Michigan in the future. Keeping in mind that our primary goals are increasing workforce capacity and creating a sustainable model, MDE has had to slow down and make intentional, strategic decisions for the work going forward.
Lessons Learned about Registered Apprenticeships:
• The USDOL registration process for sponsorship organizations can take up to 3 -18 months
• Several other states, including PA, VA and WV, have expanded local apprenticeship access while limiting or consolidating the number of sponsoring organizations to maximize funding available for local communities
• Throughout Michigan, local MI Works organizations can serve as a USDOL registered apprenticeship sponsor for many high demand occupations; their resources and expertise in apprenticeship expansion are vital for accelerating and sustaining early care and education registered apprenticeship programs.
Funding Availability:
• MDE's investment toward the initiation and expansion of early childhood apprenticeship programs is funded by the American Rescue Plan Act, which is one-time funding that has a very limited spending window, before Sept. 2024.
• MDE and ECIC have identified several potential new funding sources—both one-time and ongoing—that the state is working to leverage to support early care and education apprenticeships in more communities throughout Michigan.
Given the lessons learned about the timeline for registering apprenticeships, the availability of existing partners throughout Michigan, and the possibility of leveraging more funding for local communities, MDE asked ECIC to delay a request for proposals to create/pilot more sponsoring organizations, so that the state can strengthen a strategy to increase workforce capacity and create a sustainable model.
We hope each of the Child Care Innovation Fund's Apprenticeship Design grantee teams will join us for our Apprenticeship Roundtable on May 23, 2023, from 1:00 p.m. to 3:00 p.m., where we will share even more information about what funding opportunities might be available in the near future and how local communities in Michigan might bypass the lengthy apprenticeship registration process by partnering with existing sponsoring organizations. Click here to register!
If your community is ready for the next steps now and you want to connect with your local MI Works organization to explore partnering, the team at ECIC is available to support you.
MDE and ECIC will continue to share updates, especially if new funding opportunities become available.
Regional Child Care Planning 
A new round of the Early Childhood Investment Corporation's (ECIC) Child Care Innovation Fund opened September 28 for Regional Child Care Planning, announced in partnership with Michigan Economic Development Corporation (MEDC) and the Policy Equity Group. Regional coalitions received $150,000 to develop a regional child care plan that meets the needs and preferences of working families, and address Michigan's current child care crisis.   
See the full list of Caring for MI Future Regional Child Care Planning Grant recipients here.
Read Governor Whitmer's statement here.
These projects are supported by funding provided from the Michigan Department of Education utilizing American Rescue Plan Act (ARPA) funding, from the Office of Child Care, Administration for Children and Families, U.S. Department of Health and Human Services.  
Return to Child Care Innovation Fund Home.  >>