'Stepping Up and Speaking Out' is about the unspoken ingredients needed to build an impactful parent leadership system
Parent voice and leadership is key for systems, policies and programs to be equitable and effective for all families. This report draws on the learnings from parents, providers and administrators in Michigan and provides examples and strategies that support the development of a parent leadership system where parents can emerge as leaders and agents of change in their communities.
Join the Movement
For more than three decades, parents in Michigan have been building a movement to uplift the voices of families. Want to learn how to build parent voice and leadership in your work?
Contact Us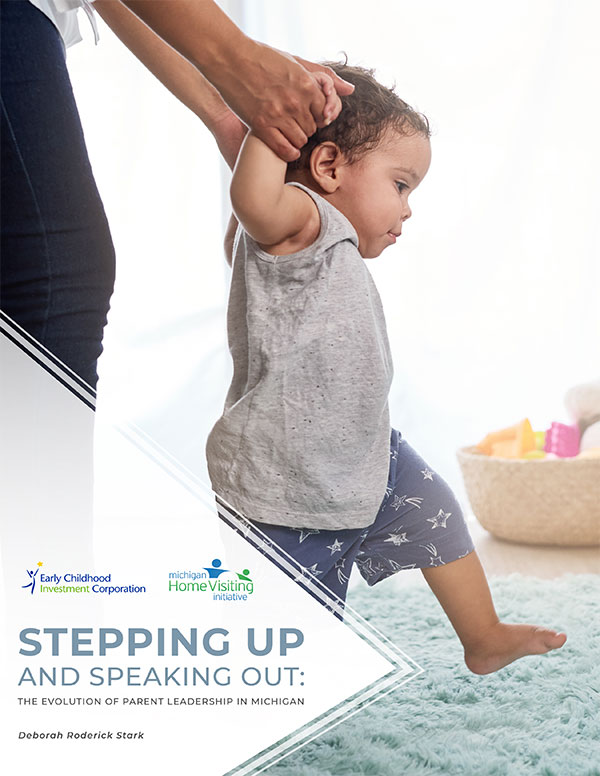 Download PDF in english
Descargar PDF en español
تنزيل ملف PDF باللغة العربية
Stark, D. R. (2020). Stepping Up and Speaking Out: The Evolution of Parent Leadership in Michigan. Lansing, MI: Early Childhood Investment Corporation & Michigan Home Visiting Initiative.
Additional Resources
These resources expand on the work of Stepping Up and Speaking Out: The Evolution of Parent Leadership in Michigan and were created for the National Home Visiting Summit to support the development of parent leadership within a home visiting system.
The companion documents are supplemental resources to the recorded presentations which focus on three main components – Parent Leadership as an Equity Strategy, The Role of Champions, and Developing Readiness and Capacity.
For additional support or questions please contact us at parentleadership@ecic4kids.org
Session 1
Parent Leadership as a Key Equity Strategy
---
Session 2
The Role of Champions in Sustainable Parent Leadership
---
Session 3
Scaffolding Success: Developing readiness and Capacity for Parent Leadership
Want to learn more about how ECIC is elevating family/parent leadership?
Visit Our Website